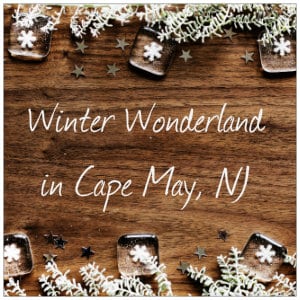 The holiday season is upon us friends and we just love this time of year! What is your favorite part of the holidays? We would love to host you for a wonderful Cape May getaway. There are endless events and activities to take part in throughout the next couple of months. So many of our beautiful Victorian homes become gorgeously decorated—it's a treat to just walk around and marvel at their beauty. The shops are festive, the town has a buzz and you simply must come experience it all for yourself. Congress Hall in particular is one area you'll find some holiday fun at their Winter Wonderland.
The Winter Wonderland extravaganza at Congress Hall begins November 23rd and continues through December 31st. It's a magical time of year on Cape May and Congress Hall provides some wonderful holiday events.
Winter Wonderland Highlights:
Starting things off on November 30th you can attend the Tree Lighting and Holiday Concert. The Festival Choir will kick things off in the ballroom at 6pm and then an outdoor show will have more performances with Victorian carolers and a brass ensemble. Then visit the shopping village with over 20 artisans and vendors.
The West Cape May Parade will take place December 1st.
Dinner with the Clauses– Sing along to your favorite Christmas Carols and enjoy a delicious three-course meal in Congress Hall's Grand Ballroom. Happening December 7th, 14th, and 21st and the cost is $50 per person.
Congress Hall, along with Cape May Stage will be presenting The Santaland Diaries: a David Sedaris Playfrom November 24th Through December 28th.
You deserve to take some time for yourself this season. With all of the busyness and running around, sometimes you just need an escape to recharge your batteries and relax. Our stunning seaside resort hotel is the perfect place to unwind and truly take some time to enjoy all that Cape May has to offer. Book online today and contact us anytime for further information.