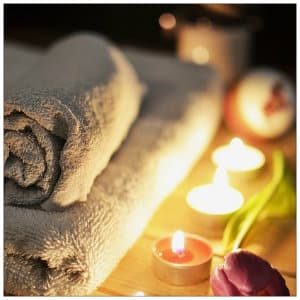 For some of us it feels like spring can't come fast enough! We don't know what part of the world you are in right now but if you are in winter there is hope –  the first day of spring is just a few weeks away! The gloomy winter skies and dreary weather can really take a toll. Add busy schedules and never-ending to-do lists and many folks can really struggle. If you are in need of a complete mood pick-up, we highly encourage you to come to Cape May, NJ for a relaxing and refreshing getaway. The Cape May Day Spa nearby is a wonderful local place to be pampered for a day.
Romantic Suites and Special Touches
Our hotel is one of the most popular choices for accommodations in Cape May. We offer romantic, luxurious suites and exceptional service. Our 19 guest rooms are each uniquely decorated and offer guests a "true escape." Spacious rooms, special touches, top-notch amenities and glimpses of the ocean are just a few of the things that make us stand out. Our guests come to relax and be treated to a memorable vacation.
For those looking for some extra special services, we encourage you to check out the Cape May Day Spa. They are a full-service spa offering state-of-the-art services. The ambiance here is serene and tranquil. The services they provide include massage, hands and feet packages, body and hydro therapies, facial therapies and more. If you are coming with a special someone, take advantage of their couple's escapes. Whether you are interested in a Swedish Massage, Aromatherapy Salt Scrubs, or Foot Reflexology, there's something for each of you. Until March 31st, 2019 they are running a Spring Break Special with several different packages to choose from.
At our hotel we also have our Spring Fling special back once again – valid from March 3rdto May 2nd, 2019. For those booking at mid-week stay Sunday through Thursday, a one-night booking gets you the second night 50% off. Also included is a delicious bottle of wine, 2 Historic District trolley tour tickets, a wine tasting at Hawk Haven Vineyards, and a $30 breakfast voucher! What an amazing deal! Take some time for renewal and recharging with a stay in Cape May – you deserve it!