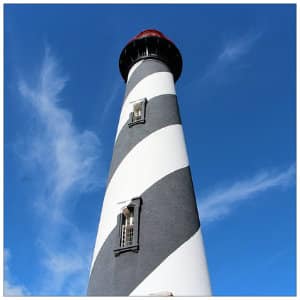 Cape May has a rich history, one that we are very proud of since this is the beautiful we get to call home! Henry Hudson was an English Sea Captain who first documented the peninsula that is now Cape May in 1609. Natives visited the area and a general community started 1685 but it wasn't until 1692 that Cape May County was formally created. When roads were finally laid in the late 1700's, it was then that the tourism industry really started to flourish. Part of our great history also revolves around the lighthouse – several of them in fact! There is a unique, one-of-a-kind tour coming up that we think our guests will really enjoy. Keep reading for more about the Grand Lighthouse Cruises on the Cape May Whale Watchers.
Lighthouse Tidbits
Would you like to know some interesting facts? The two main purposes of a lighthouse are to serve as a navigational aid and to warn boats of dangerous areas. It is like a traffic sign on the sea. The painted stripes help the lighthouse from blending into the background scenery. Lighthouses in close proximity to each other have different flash patterns so the mariners can identify them. Also, they were originally lit with fires then progressed to candles, lanterns and then electric lights. Lastly, did you know the height of a lighthouse takes into account the curvature of the earth? The higher the light the farther away it can be seen at sea. How neat is that?
The Cape May Whale Watcher is offering a very unique cruise where guests will have the chance to view and photograph seven different historic lighthouses of the late 19th and early 20th centuries. The cruise, which lasts 5 hours, includes a narration on the history of each lighthouse. It also provides a continental breakfast buffet and a Captain's lunch buffet. This spring, the cruise will be taking off April 20th at 10am. The cost is $95 for adults and $75 for children 7-12. Parking is free at the marina.
Are you looking for a place to call home for a spring vacation? Come to Cape May! Whether you are looking for adventure or some peace and quiet, our hotel can accommodate all kinds of travelers! Book online today or contact us anytime for further information.