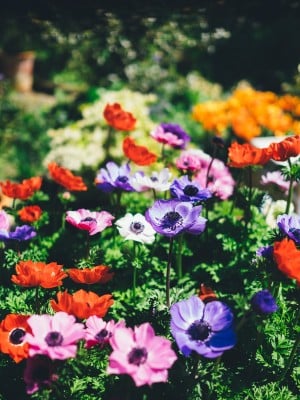 Every now and then, it's a good idea to "stop and smell the roses." With so much growing and blooming around Cape May, it's a perfect time for a garden tour! See beauty and creativity on the Gardens of Cape May Tour. For guests at our resort hotel, this tour is a wonderful way to spend an afternoon!
View several private residences as well as the grounds of the Emlen Physick Estate. The Estate will host nature and garden themed local vendors. In addition, you'll also be treated to complimentary wine tasting by Cape May Winery! It's all taking place Saturday June 12, 2021, from 1pm – 4pm and tickets are $20.
Properties on the garden tour:
The Dwyer Residence – 911 Farmdale Drive, West Cape May – The plants, flowers, and shrubs here had wildlife in mind! Everything planted supports the birds, bees, butterflies, frogs, and dragonflies. In addition, you'll see vegetable, berry and herb gardens.
The Viguers Residence – 501 Broad St., Cape May – This gorgeous garden blooms with daffodils, tulips, Siberian iris, Asiatic lilies, Heirloom roses, Mophead hydrangeas, begonias, and orchids. There is also a pond filled with goldfish that is surrounded by aquatic plants and water lilies.
The Emlen Physick Estate – 1048 Washington Street, Cape May – There are six different gardens that you can tour on the grounds of Cape May's only Victorian house museum. The estate is a must see on your tour. The Oval Garden alone has over 700 colorful annuals of multi-colored snapdragons, marigolds, white vinca and red cardinal salvia flower.
The Gaines-MacKenzie Residence – 1148 Washington Street, Cape May – This modest but impressive garden has more to the eye that one realizes! They have an abundance of native plants, a vegetable garden, pond and annuals that just burst with colors.
The Garrett Family Preserve – Off Seashore Road at the end of Wilson Street in Lower Township, NJ – This preserve has more than four miles of flat trails that you can hike or bike. View the bird blind enclosure, insect hotel, or picnic in the pavilion.
The Gulish Residence – 1125 Washington Street, Cape May – Colorful shrubs and perennials, climbing roses, and peonies are just the tip of the iceberg in this garden. A gazebo, fountain, bird houses and vegetable gardens adorn this beautiful space.
Ready for a memorable spring or summer getaway? Book your next stay at the Carroll Villa Hotel today! You can book direct through our online reservation system. Need help planning or have questions? Contact us anytime – we are here to help make your next adventure to Cape May one to remember!