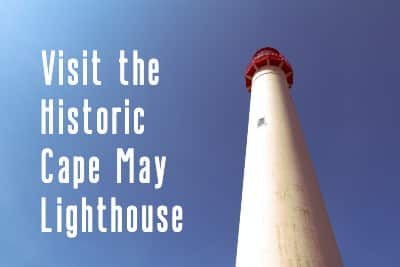 During a visit to Cape May, NJ, there are opportunities to explore to your heart's content. Whether it be window shopping, hiking, strolling the many beaches, whale watching or kayaking, you'll find your fill of adventure. There is also an abundance of history here and today we've got some top sites and historic landmarks to share with you!
History Abounds in Cape May!
This lighthouse is adjacent to the community of Cape May Point and just two miles from the city of Cape May. It has drawn visitors throughout history. If you can climb the 199 steps up the original cast iron spiral stairway, you will be treated to breathtaking views of the Atlantic Ocean and the Delaware Bay. You'll find interpretive panels throughout the grounds that tell the stories of the lightkeepers and surrounding area. It was restored an opened to the public in 1988 and is listed on the State and National Registers of Historical Places.
Naval Air Station Wildwood Aviation Museum
This non-profit museum is located at the Cape May Airport inside historic Hangar #1. Commissioned in 1943, NASW served as an active dive-bomber squadron training facility during World War II. Today, the 92,000 square foot museum invites visitors to explore aviation, New Jersey, military and WWII history through hands-on, educational activities for the entire family. You'll be able to view a number of aircraft, engines, special exhibits and interactive displays. There is a great gift shop full of historical memorabilia, toy and model planes.
This stunning estate is Cape May's only Victorian house museum and one of the more popular historic landmarks in the area. Built in 1879 and designed by renowned American architect Frank Furness. There are 15 beautiful rooms that show a glimpse into the Victorian times. You can take a guided or self-guided tour. The four-acre estate also includes the Carriage House, the Carroll Gallery and year-round exhibits, the Carriage House Museum Shop, and the Carriage House Cafe & Tearoom, which is open for lunch from April through October.
See the 1800s come to life at this very popular living history museum. The centerpiece of the museum is a re-created rural Southern New Jersey town set on more than 30 acres. Visit 27 restored, historic buildings and watch interpreters in period clothing demonstrate woodworking, pottery, basket weaving, blacksmithing and open-hearth cooking. There is a farm, country store, bakery, ice cream parlor and Cold Spring Grange Restaurant. Located at the Route 9 entrance, you'll find a Welcome Center, which is a great place to start your visit.
Built in 1942, Fire Control Tower No. 23 is New Jersey's last remaining restorable World War II tower. It was one of 15 towers that helped aim batteries of artillery towards the Atlantic. On land now part of the Cape May Point State Park, the tower offers a 99-stair hike up to the top. All along the way are landings full of exhibits. The boardwalk leading up to the tower is lined with interpretive panels. There is also a special memorial on the rear deck at the base of the tower. Even if you are not a true history buff, you'll find it to be moving and informative.
We are proud of our efforts to save, preserve, honor and share the history surrounding Cape May and the people that paved the way before us. Come and visit these historic landmarks. We encourage you to book a stay with us and experience for yourself the reason why our guests return year after year!