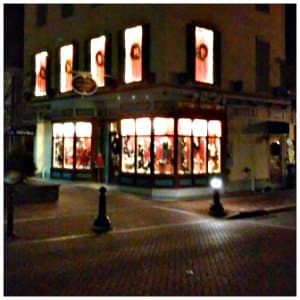 At the heart of most cities is some kind of special place—it could be a monument, museum, shrine, statue, fountain, historic building, church, or maybe even an old barbershop that's still standing after 75 years. Here in Cape May, we are so proud to offer locals and visitors an abundance of things to do and see but a favorite has to be the heart of our city, which happens to be the Washington Street Mall.
Now you may be thinking, "A mall…really?" It may not be what you were expecting us to mention and we can assure you it is not what you would expect when thinking of a typical mall. Washington Street is a major east-west street in downtown Cape May and there is a fantastic walkway named the Washington Street Mall, which lies between Perry Street and Ocean Street. It truly holds the heartbeat of Cape May as it houses some of the best shops and restaurants our area has to offer. This outdoor shopping area covers about 3 blocks and is the perfect place to spend the day if you enjoy strolling and perusing around in a fun, family-friendly atmosphere.
Washington Street Mall is not where you will find typical touristy shops filled with knick-knacks. The promenade is home to a myriad of really unique local shops and the food at the restaurants that line the street is out of this world. The Victorian setting is just charming and gorgeous restored homes and the beautiful beach surround you. There is something for everyone here and you can take as long as you wish strolling around. Shop the stores, stop for fudge, ice cream and other sweets, grab a coffee or drink, or just find a nice bench and watch the world go by. If you want to park close, we suggest having some quarters on hand for the meters.
If you are looking for a new start for the New Year, we suggest kicking 2017 off with a bang by spending some time with us here on Cape May. It's time to start making memories and there is no better way to do that than with a memorable stay at our historic hotel. Book your vacation online today or contact us for help planning the perfect Cape May getaway.