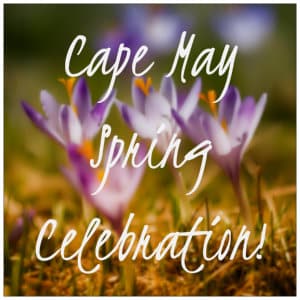 Ahh! Spring! What is your favorite thing about the change to this season? If you live in a place that is covered with a blanket of snow and grey skies all winter, spring means new life and color! The sun shines more often, the days are longer, the birds return and all that was dead or hibernating returns to new life. We love spring here in Cape May. The average monthly temperatures are very pleasant, the hyacinths start blooming, many shops and restaurants that close up during the winter open their doors once again, and the Cape May Spring Celebration comes back! We'd love to have you join us for this favorite annual event so keep reading for more details.
The Cape May Spring Celebration provides folks with a lot to do to celebrate spring. It will be taking place April 28-May 7, 2017, which gives you plenty of time to pick your favorite things to do and spend some time resting and relaxing in Cape May.
Events for the Spring Celebration include:
Cape May Trolley Tours—The perfect way to see Cape May is a relaxing ride on a MAC red trolley. Learn what it was like during the Victorian Era and stories from Cape May's history.
Cape May Wine Trail—Spend an afternoon touring some of our amazing local wineries: Willow Creek Winery, Hawk Haven Vineyard and Natali Vineyard.
Chocolate Lovers Feast and Tasting Tour—Enjoy chocolate desserts at the Blue Rose Inn and chocolate treats at several beautiful Cape May properties.
Ghosts of Cape May and Historic Haunts Tours
Scavenger Hunt at the Emlen Physick Estate
Spring Celebration Crafts &Collectibles at the Physick Estate
If you need any advice on what events to attend or help planning you Cape May vacation, feel free to contact us anytime. We want your stay to be a memorable one! Spring is a great time to visit our beautiful area and our hotel is the perfect home away from home. We hope to see you soon.