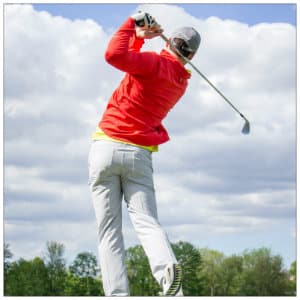 If you are itching to get on the green and warm up those clubs that have been hibernating during the winter, Cape May, NJ offers golfers a pure paradise of options. We have some truly amazing golf courses in our area. The outdoors and all that our gorgeous area has to offer is one of the main reasons visitors flock here for vacations. Golfing is just one activity that draws many of our guests.  We thought we'd provide you with a quick list of some of the top spots to check out the next time you are staying with us.
Cape May Golf Courses:
Cape May National Golf Club – This incredible and very popular golf course surrounds a fifty-acre private bird sanctuary – one of the largest in the state of New Jersey. It offers top of the line golfing in a truly stunning setting. This excellent course is kept in pristine shape and offers a variety of amenities for visitors. The course can be narrow in spots and offer some solid challenges making it a great choice for those with some experience under their belts.
Avalon Golf Club – Another beautiful, local course, Avalon is located between Wildwood and Ocean City and is a great course for all skill levels. You'll find lots of water and some narrow fairways and the proximity to the water can bring some wind into play. The staff here is very friendly and accommodating. Warm up on the putting green and then enjoy a delicious meal at the grill after your game.
Laguna Oaks Golf Course – Located in Cape May Court House, Laguna Oaks is open to the public seven days a week. This amazing course is built on 200 acres of meadowland and was designed by Architect, Fred Langford. Waterfalls, ponds, and towering willow oak trees provide a serene and stunning backdrop for a relaxing game. This par-3 course boasts to be quite challenging so be prepared to step up your game!
Heritage Links Golf Course – This course is located in Palermo, NJ, just a half hour from our hotel. It is a great 9-hole course perfect for the whole family and all skill levels. This beautiful course was once an old family farm and now boasts a chipping and putting green, lessons, clinics, and affordable fees.
Shine your shoes and clubs and come on over for an amazing golf getaway this spring or summer. Spend the morning on the greens and the afternoon on the beach! We've got it all here at Cape May and we would love to be your hosts during your stay. Book online today or contact us anytime for more information about our hotel or the area we call home.