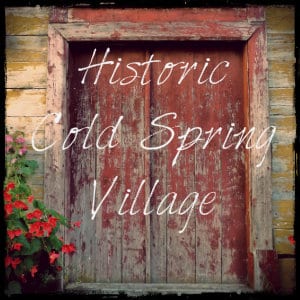 Life is moving at a very fast pace would you agree? It is exciting to see how far technology has come and what the next new invention will be! There is such value though in keeping history alive however and wherever we can. Whether it is stories from our great grandparents, pictures, collections, artifacts or supporting museums large and small. We all need to remember where we came from to fully appreciate where we are now! There is an amazing place near our hotel called the Historic Cold Spring Village. We highly encourage you to check it out the next time you are staying with us.
The Historic Cold Spring Village is located right here in Cape May, NJ and is a great place to bring your family. History buff or not, you'll enjoy a fantastic, hands-on educational experience. They opened the 2017 season on June 27th and will stay open through September. The summer season is your opportunity to see what this place is all about. The focal point of this impressive museum is the rural, historical Southern New Jersey town they have re-created on over 30 acres.
With a lot to see, as this is the largest outdoor living history museum in New Jersey, you'll want to plan on 3-4 hours to see everything. There are over 26 historic structures to visit including a brewery, jail, country store, rail station, train tower, blacksmith, farm, bakery, ice cream parlor, pottery shop, woodworking shop, school and many more. Ticket prices are $12 for adults, $10 for children 3-12, and 3 and under are free.
After your day at the village you can enjoy a delicious dinner at our Mad Batter Restaurant, take a walk on the beach, or relax with a good book on your own chair under our new beach umbrellas. Book a summer getaway today—it's not too late!