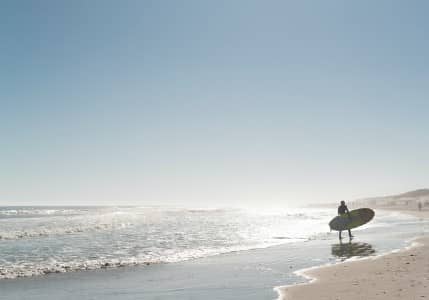 With beautiful sunny skies above and soft sand between your toes, the stunning Cape May beaches are the place to be! We would love to host you at our seaside resort hotel if you are still hunting for the best place to enjoy a dreamy summer vacation. Located just minutes from the beach with spacious suites and luxurious amenities, our hotel is a top choice for accommodations in Cape May, NJ. The beach is a top destination for visitors what the Jersey Shore is famous for – the surf…the sand…you just can't beat it! Keep reading for all the information you need for an amazing beach vacation.
Spending the day on the beach is the ultimate in fun and relaxation. For many of our guests, coming to Cape May is a bucket list trip! As the tides ebb and flow, the scenery changes all day long. Build sandcastles in the sand, jump in the surf, and catch up with friends and family. You'll see folks swimming, boogie boarding, surfing, and more. In addition, the ocean beaches are lifeguard protected and are open daily during daytime hours from Memorial Day through Labor Day. Below is a list of the many beaches you can explore during your stay.
Cape May Beaches
Higbee Beach
Sunset Beach
Cape May Point
Cape May Point State Park
Cape May City Beaches
Steger's Beach
Poverty Beach
Wildwood Beach
Corson's Inlet State Park
Stone Harbor Point
Our beaches are home to shore birds, sand crabs and the best sunrises and sunsets around. Time spent here will bring memories to last a lifetime. After a day at the beach, spend some time shopping Washington Street Mall or exploring all of the unique Victorian architecture all around town.  It is not too late to reserve a suite at our hotel for an amazing summer getaway. Book direct online for best rates or contact us at any time for assistance or questions.
"Smell the sea, feel the sky and let your soul and spirit fly." – Van Morrison