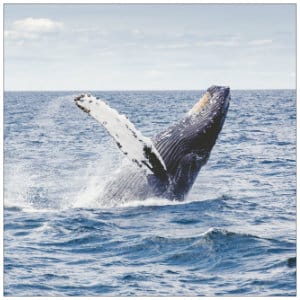 Anyone out there remember the Gilligan's Island theme song? "Just sit right back and you'll hear a tale, a tale of a fateful trip, that started from this tropic port, aboard this tiny ship. The mate was a mighty sailin' man, the Skipper brave and sure, five passengers set sail that day, for a three hour tour, a three hour tour." We've got another trip to tell you about today but we promise it won't be fateful! It may be a three-hour one but it is a tour that will get you up close and personal with the beautiful sea creatures that call Cape May home. Keep reading for information on a dolphin and whale tour with Cape May Whale Watch & Research Center.
The Cape May Whale Watch & Research Center opened in 1987 and was the first eco-tour in New Jersey that allowed visitors the opportunity to view whale and dolphins. They know the surrounding waters like the back of their hands. This tour offers guests and residents a once in a lifetime trip on the open water. The whale and dolphin watch, which they call "The Big One," is one of the most popular tours. We highly encourage you to book one the next time you are staying with us at our seaside hotel.
This tour is a 3-hour adventure and leaves Cape May Harbor at 1pm every day. The costs are $40 for adults, $25 for children aged 7-12, and children six and under are free with a paying adult. It is truly an experience that old and young will enjoy. As you venture out the boat will be on the hunt for the sometimes-elusive Humpback Whale and other whale species such as Fin and Minke. You may also be treated with sightings of bottlenose dolphins, sea turtles, stingrays, sunfish, sharks, birds, and so much more. The on-board guides are fun and informative. They will point out historical spots and landmarks along the way. There is also an on-board touch tank filled with live sea creatures!
This tour is such a fun way to spend the afternoon! Once you debark, we can point you to some great places to grab dinner or do some shopping. Then you can come back to the hotel for some rest and relaxing. Come find out why Cape May continues to be one of the most popular summer getaway destinations in the country!