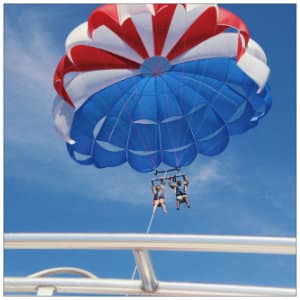 Cape May is known for being a top seaside resort destination, the impressive Victorian homes, and delightful shops and restaurants at the Washington Street Mall. While that list alone is enough to allow us to boast a little, there's more! For folks who love spending time on the water, our area also provides a myriad of activities to enjoy such as kayaking, canoeing, parasailing, stand up paddle boarding and more. If these types of things "float your boat" then keep reading and start planning your next getaway!
There's not much that equates to the rush of sailing high above the water seeing panoramic views of the lake and Cape May. If you have never experienced parasailing excursion then let's start here. East Coast Water Sports offer guests a high-flying thrill, 500 feet over the ocean. They offer single, tandem, or triple passenger flights. You also take off and land from the boat so you never have to get wet—unless you want a special "dip" during your flight. Spots fill up fast so you'll want to book your spot as soon as possible should you be planning a stay with us.
East Coast is also a great place to rent jet skis if you are looking for some adventure out on the water. Renters must be at least 18 years old and passengers at least 44" tall. They do their due diligence in offering a quick safety course and instruct on boundaries of the riding areas.
Another place to check out is Miss Chris Kayak & SUP Paddleboard Rental and Tours. You can rent a single or double kayak by the hour, half-day, full day or even a whole week. They also have a wide variety of stand up paddleboards for beginner to intermediate paddlers. If you are looking to go out with a guide, they also offer daily kayak tours and sunset kayak tours on Wednesday and Saturday evenings. Sunset on the lake is the best place to be!
Even though the end of summer is closing in, there is still time to book a retreat to our gorgeous neck of the woods. Cape May has so much to offer every member of your family—book your room online today!