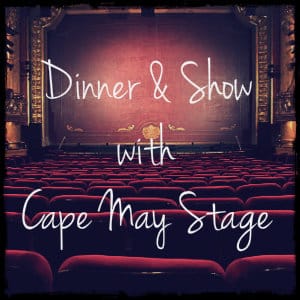 Are you feeling weary? Perhaps needing some time away or a special night out to relax and unwind? This time of year is busy for many-pulling us in all directions as we have holiday to-do lists running us ragged. May we suggest taking some time for YOU? You deserve to treat yourself every once in a while and a little getaway to beautiful Cape May, NJ may be exactly what you need! It is so pretty and peaceful here at this time of year and we also have some great events to attend like the dinner and show at the Cape May Stage. Keep reading for some more details and start thinking about which weekend you can come our way!
The Cape May Stage performs out of a beautiful 19th-century church. This venue gives guests an intimate atmosphere to enjoy a show. Because of the smaller size of the theater, there isn't a bad seat in the house. You will feel as though you can get up close and personal with the performers on stage. The actors and actresses are top notch and each show is very professional and high quality. They put on an array of plays throughout the year and some fantastic dinner & show packages.
With the Cape May Stage Dinner & Show packages, you will enjoy a wonderful dinner at our very own Mad Batter Restaurant, or another dining room of your choice and then tickets to the evening performance. Each restaurant has their own "special" for this package so you must make your reservations directly through the restaurant. Tickets for just the show are normally around $40 so this deal is a great discount. There are two shows in particular coming up that we think you would really enjoy. The first is a quirky, Irish romantic comedy called "Outside Mullinger." It's heartbreaking, moving, and funny all in one and will run until November 10th. The second one is, "The Ultimate Christmas Show," a festive and very funny show that will have your side splitting with laughter. Imagine a trio of actors in a Christmas Pageant gone wrong—it's like no holiday show you have seen before. There is some adult humor and adult content so is not suitable for younger audiences.
We'd love to be your hosts for a Cape May holiday getaway. You can book your preferred rooms directly online. If you need help planning your time here, contact us anytime for further information. Also – don't forget to check out our amazing fall getaway special that is running through December 21st!