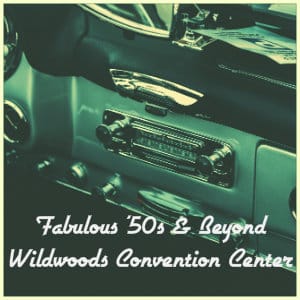 Do you remember the song, "Shake, Rattle, and Roll?" It made its debut back in 1960 by Bill Haley and His Comets. Other artists such as Chuck Berry covered the song, and it is just one of many that bring with it a feeling of nostalgia from that time. The '50s and '60s brought us through big band, doo-wop and rockabilly. It is music that is just hands down fun and enjoyable to listen to! If this is your style and you'd like to be taken back in time, make plans to be here for the upcoming Fabulous '50s & Beyond Celebration at the Wildwoods Convention Center.
The Fabulous '50s & Beyond Celebration will be taking place October 13-14, 2017. We know that is just around the corner, but we still have some rooms open! It is a wonderful time of year for a visit to Cape May, NJ. This event is taking place at the beautiful Wildwoods Convention Center, which is just 20 minutes from our hotel. This event will be featuring a Friday night Nifty '50s Dance Party with The Cameos. It's going to be an incredible event, complete with a free street fair at Fox Park on Saturday from 11-5pm. Tour around and see some classic cars, peruse a variety of craft vendors, and listen to some great live entertainment. The main concert will take place Saturday evening and will feature Frankie Avalon, The Duprees, Danny & The Juniors, and The Ladies of Shake, Rattle 'n Roll. You can purchase your tickets through Ticketmaster.
We would love to be your home away from home this fall—whether during an event such as this or when you need a peaceful, rejuvenating getaway. Contact us for further information or book your vacation directly online today!