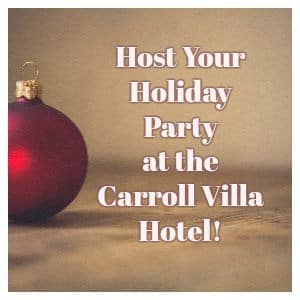 If you have been tasked with planning a holiday party or event, there are a lot of details to think about! Should it have a theme? Where should it be? How many are coming? What will you do about food and drinks? Take a deep breath because we can help! You might be local to Cape May or traveling in with a group. If are looking for a place to host your party, our hotel is your perfect choice. We think you'd probably agree that the right venue sets the tone for an entire event. Our charming and historic hotel, in the heart of downtown Cape May, offers the ideal venue for your next party or get together.
Top Customer Service and Friendly Atmosphere
Come to our home away from home where you will be treated like family. We greet every guest with a warm hello and offer customer service that shows how much we care. Our lodging and our on-site restaurant, The Mad Batter, have received numerous awards. We are proud to have received New Jersey's Governor Diamond Award as a Cape May destination point and Trip Advisor's Certificate of Excellence many years in a row.
When it comes to hosting a party, celebration, family reunion, anniversary, or even company Christmas or New Year's Party, our hotel is a top choice in Cape May. Our corporate dinners can serve up to 60 people. We can create a package tailored to your specific needs should you require guest rooms or leisure activities in addition to your event.
You can likely find the "ultimate holiday party planning guide" with a quick Google search, but isn't it that much easier when you have an actual person on your side, helping to create a one-of-a-kind event that is tailored to your group's needs? That's exactly what our event coordinator, Marta Kulkowitz, can do for you. We have a quick and simple event inquiry form on our website—all you need to do is provide us with a few details about your event and your needs and we'll contact you to get things started!