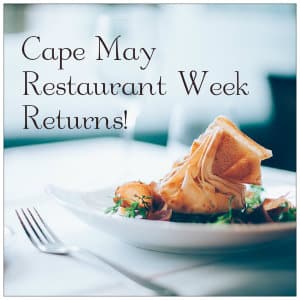 For many, summer calendars are filling up, trips are being booked, and plans are being made. Another fun but busy season is about to start! If you have never made it to Cape May, NJ, may we encourage you to consider a visit to this historic, Victorian seaside resort? You can find us at the southern tip of the Cape May Peninsula. You simply will not find a more beautiful, hospitable, and enjoyable place for special getaway. In addition to the beaches, activities, vineyards, guests enjoy a variety of events all year long. A favorite event, Cape May Restaurant Week is coming soon. For those "foodies" out there this is one time of year you'll want to be here!
Cape May Restaurant Week will be taking place June 3-10th. This year marks the 11th anniversary for this very popular annual event. If you have been looking for a reason to visit Cape May, this is a great one! We highly encourage you to come during this celebration of the amazing culinary culture we have here.
How to take part!
This is not an event for which tickets are required. However, we do encourage you to make reservations where that is available. Each participating restaurant will provide you with their fixed price menu as well as their regular menu. For the fixed price dining you will be offered at least three appetizer choices, four entrée choices, and three dessert selections. The cost is $35 per person and this does not include beverages, tax and gratuity.
You are not bound to order from either menu. If you are with a group friends some can choose from the regular menu and others from the fixed price options. Combine whatever dining options sounds good to you! You can check out the list of restaurants that are participating so far—we've got 27 at this point so you are going to have an amazing variety of local Cape May restaurants from which to choose.
There is always something going on in our beautiful neck of the woods. Whether you are looking for outdoor adventures, relaxing window-shopping, or a sunset stroll along the beach, you'll find it all here. We can help you plan a tailored getaway to meet your specific needs and wants. Book online today and contact us anytime for further information.