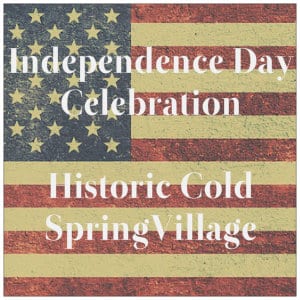 We love keeping you in the loop on all the great things happening in our area!  We are excited for what this summer season will have in store—so many iconic summer activities can happen right here in Cape May, NJ. Our beautiful seaside resort is just minutes from the beach, and close to all kinds activities to keep you busy. We know your calendar may fill up fast with cookouts, traveling, time with friends, and other events. If you are looking for the best place to be for July 4thfestivities, we would love to have you join us!
4th of July at Cold Spring Village
Play on the beach, go to the Cape May Lighthouse, take in the history at the Emlen Physick Estate, or take a carriage tour around Cape May. These are just a few things to do during your time here. To celebrate July 4th, we encourage you to take a trip over to the Historic Cold Spring Village. This unique open-air living on more than 30 acres museum brings the 1800s to life. Guests can experience a variety of activities from that era in addition to horse-drawn wagon rides, historic games and more. Their Independence Day Celebration will take place Saturday, June 30 and Sunday, July 1, 2018 from 10am – 4:30 pm both days. The cost is $14 for adults and $12 for children 3-12. Enjoy a variety of patriotic family activities, programs and music, and demonstrations of Early American trades and crafts.
During your visit we encourage you to also check out the Cold Spring Brewery, a new addition to the village that many are very excited about. An 1804 three bay English-style Cape May County barn was restored and reconstructed board by board to be the home for the brewery. They offer four delicious beers along with a rotating variety of limited editions.
If you will be with us the following weekend, you'll enjoy our popular Independence Day Parade. It will be taking place July 7that 1pm along Beach Ave. We can help make your stay here exactly what you desire. Some guests come seeking adventure while others need a total escape and time for rest. No matter what kind of getaway you are looking for, we can help make it possible. Book online today and contact us anytime for further information or for help planning your next Cape May getaway.