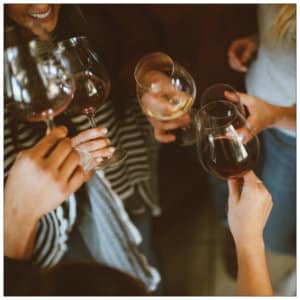 Welcome back friends! We hope you have been able to enjoy a fantastic summer so far! Here in Cape May, we have had a wonderful season hosting guests from all over. We've seen old friends, made new ones, and have enjoyed all that this area has to offer. The first day of fall is not for a few weeks yet, so there is plenty of time to take in an Indian summer getaway. Come and relax, go on an adventure, or take in a fabulous event like the Cape May Food & Wine Celebration!
Food & Wine Celebration Highlights
The Cape May Food & Wine Celebration celebrates its 22nd anniversary this year. It has grown to become one of the highlight events in this area. It will take place September 14-23, 2018 and is hosted by the Mid-Atlantic Center for the Arts and Humanities (MAC). Cape May is hands down one of the best beach cities when it comes to food! Be assured that this festival is one worth attending!
This food extravaganza will showcase the best chefs of the region and spotlight our areas wineries and breweries. There will be a myriad of "mini events" happening during the celebration, offering something for everyone. You may want to check out the Chocolate Lover's Feast, the Chef's Dine-Around, Wine Blending at the Cape May Winery, food sampling at the Gourmet Marketplace, the Chowder Competition, or the dinner with full moon climb at the Cape May Lighthouse!
For more information you can visit the MAC website. Tickets can be purchased online or by calling 609-884-5404. Bring family and friends and take advantage of a fantastic vacation to Cape May. The weather is beautiful and the high season crowds have dwindled making it a perfect time of year to be here. Book online today or contact us anytime for more information about our seaside inn or the gorgeous area we get to call home.