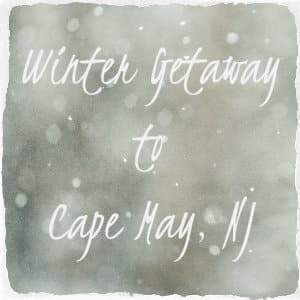 The beautiful town of Cape May always has a lot to offer but there is a period of the year when everyone breathes a sigh of relief. This time of year is January—when the hustle and bustle of the holidays has passed and President's Day and Valentine's Day are not coming around the corner yet. For some this time of year can bring too much quiet, loneliness or time indoors…cue the winter blues. If you need a getaway to either recharge after a busy holiday season or perk up your spirits, we would love to host you at our historic hotel in Cape May.
Winter Activities in Cape May
We love wintertime here in our quaint, charming town. Even though there might be a chill in the air, the lighthouse still shines bright, the sunsets still dazzle with color, and the town is peaceful. Some might say there's even a romance in the air. The beach is just a short walk away and a morning stroll to catch Mother Nature's sunrise is sure to make you feel alive! Grab your walking shoes and binoculars and spend a day wandering through a local nature preserve. Or, take a walk down the promenade. The cooler months bring some great savings around town! Restaurants offer dining discounts and the shops on the Washington Street Mall often have lots of winter clearance sales. You can find some good bargains! If you have a sweet tooth, stock up on some fudge at the Fudge Kitchen.
Our Blue Batter Bar is a fantastic spot for a Happy Hour outing. Spend some time with your loved one and meet some new local friends. Great drink specials, delicious bistro menu and lots of live music. Just a note—the restaurant and bar will be closed January 2nd-17th, 2019. If you appreciate beautiful Victorian architecture, we encourage you to take a tour of the Emlen Physick Estate. This is a very popular place in the summer. The winter months, however, provide a very quiet chance to tour this exquisite home at your leisure.
Perhaps the way to cure your winter blues is just some peaceful rest and relaxation. Our elegant inn offers personal hospitality and luxurious amenities. We hope you take the time to see why Cape May is a "bucket list" vacation spot for many of our guests. Book direct for the best rates using our online reservations or contact us anytime for further information.