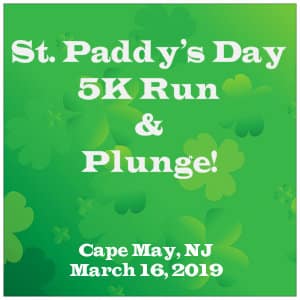 New life, new beginnings, new adventures…that's what a new season is all about right? In our last blog we called out to all of you who might be a bit weary this winter and in need of some TLC with a Cape May spa day. Our elegant and romantic hotel is the perfect place to recharge and relax. Also, with many events going on in the area all year long, we are also a top choice for accommodations for guests coming in for some fun. St. Patrick's Day is around the corner and why not kick off spring with the St. Paddy's Day Plunge and 5K Run!
While St. Patrick's Day lands on Sunday, March 17th, this Cape May event celebrates the holiday a day earlier on March 16th. This is a favorite local event that draws in the locals and visitors alike. Now, there are a variety of events you can take part in depending on your sense of adventure! There is the headlining 5K run and the plunge but in addition there is also a 1-mile walk. You can also sign up to do just the run, just the walk, just the plunge, or a combination!
Keep in mind that registration sign-ups end March 14th if you want to participate in any of the events for this day. Participants receive a Long sleeve Tech T-shirts, refreshments of bananas, water, granola bars, hot chocolate, and beer! After it is all said and one you can check out the after party!  Carney's will be hosting a live band and DJ. You are also doing some good by taking part as all event proceeds will be donated to the Cape May Food Closet.
When you book your next stay with us, don't miss out on taking advantage of our Spring Fling special! Come enjoy a mid-week stay Sunday through Thursday in Historic Cape May. Book one night and get the second night 50% off! Plus, wine tasting, tour tickets, food vouchers and more! Click here to read all about this fantastic package.
When you book directly with us you get the guaranteed lowest rates. Plus, receive a $30 breakfast voucher with each night's stay, the best happy hour in town from 3-6, live music nightly, and 30% off dinner entrees at our award-winning Mad Batter Restaurant. We look forward to seeing you soon!