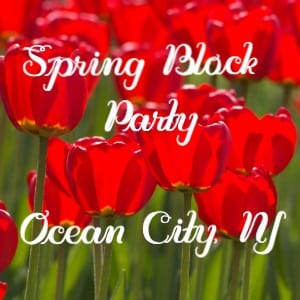 Do you remember the old days when folks in the neighborhood would gather together for a BBQ or to celebrate a holiday? The street might be closed off, the grill's going, potluck food is set out, kids are playing and everyone is enjoying seeing old friends and making new ones. We've got a different kind of block party to tell you about and it's coming up this Saturday, May 4th for you last minute planners out there. It's the Spring Block Party in Ocean City and it's looking to be a ton of fun!
Ocean City is just 40 minutes from our hotel here in Cape May. It is the 37th anniversary for this popular annual event, that attracts thousands of visitors from all over. More than 100 downtown stores will be open with table sales out front. There will also be more than 350 crafters and food vendors on hand so you can shop and eat your way through the day. Live music, including the Tidal Wave Band, the Pennsport String Band and a variety of other acts, will fill the downtown atmosphere. The party will be happening between Fifth Street and 14th Street on Asbury Avenue from 9am to 5pm.
Once you have had your fill of fun, you can come back and enjoy a nightcap at our restaurant, the Mad Batter, take a walk along the beach, or relax in your luxurious guest room. We would love to share all our favorite spots and things to do in Cape May. Book your next getaway today and contact us if we can help you plan the perfect spring vacation!