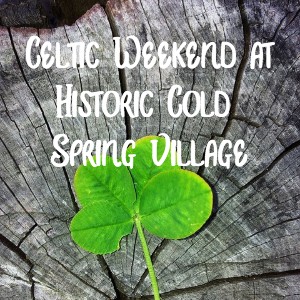 "May your joy be as deep as the oceans, your troubles as light as its foam. And may you find sweet peace of mind wherever you may roam." – Irish Proverb
The sweet season of summer is a wonderful time to take a memorable getaway! We can promise you will find your troubles lighter and sweet peace found during a stay in Cape May, NJ. Our amazing town is America's oldest seaside resort. It's truly one of the most beautiful spots in the country. Located at the southern tip of Cape May Peninsula, we are where the Delaware Bay meets the Atlantic Ocean. Some guests come for outdoor adventures, others for total relaxation. You will find what you are looking for on a getaway to Cape May. We love sharing the many events and things to do here in this blog. A special place nearby, Historic Cold Spring Village, is hosting their annual Celtic Weekend. Keep reading for  the details of this fun event!
15th Annual Celtic Weekend
Historic Cold Spring Village is open seasonally and is a place that brings the 1800s to life. On this 30-acre site you can tour through 27 restored, historic buildings. Throughout your tour you will be able to watch interpreters share about life in that time. If you are history buff it's a great place to learn about blacksmithing, printing, woodworking, pottery, and bookbinding to name a few. There is a farm, craft buildings, wagon rides, a country store, ice cream parlor, brewery and restaurant. It's a fantastic place to visit during a stay at our hotel but especially when they have great events such as the Celtic Weekend.
Celtic Weekend will be taking place July 13-14, from 10am-4:30pm each day. This year marks the 15th anniversary for this popular event that celebrates all things Irish, Scottish, and Welsh. Main stage performers include Nae Breeks Pipes & Drums Band, The Flynns, Joe McGonigle, and Tom Brett. Also, various vendors will be on site, and finally, the New Jersey Irish Setter Rescue for visitors to meet this lovable breed
Visit our interactive map to see a list of attractions and other things to do during your stay with us! We would love to help you plan your next getaway to our seaside resort—book direct today through our website and contact us anytime for further information!