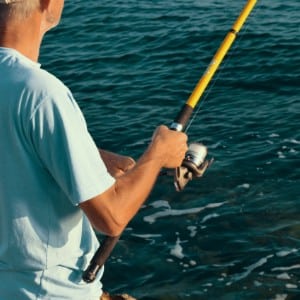 What an amazing summer so far here in Cape May, NJ. It is such a blessing to be able to host so many guests from around the country. If you have yet to make it to our neck of the woods, there are still plenty of weeks left!  Cape May has so much to offer vacationers. Whether it's for a one-night stay or a full week, we can help you plan the perfect getaway. A popular activity during the summer season is fishing. So, get your gear ready and come on over for some summer fun!
Cape May a Fisherman's Delight
The fishing here in Cape May is great! It's a perfect activity choice for all there are experiences to be had for everyone. There are lots of species to catch too such as flounder, kingfish, croakers, bluefish, striped bass, and more. Cape May is a great place to fish due to its proximity to the Delaware Bay and the Atlantic Ocean. For those looking for some "inside scoop", a popular area to fish is the "Cape May Rips." They are formed by a long shallow stretch of sandbars that jut out from Cape May Point.
A fishing excursion may be the best way to experience what our area has to offer. There are several charter fishing boats for deep sea and Delaware Bay fishing trips available. Cape Sea Excursions, Liberty Charters, Miss Chris Boats, and Porgy IV are just a few local businesses offering amazing fishing experiences. If you aren't able to bring along your own gear, you can rent items at some of the local bait and tackle shops as well.
Wineries, outstanding restaurants, jazz festivals and more…Cape May is a historic Victorian seaside gem and one of the most beautiful spots in the country. Outside of fishing there are plenty of other activities and area attractions to enjoy. Book direct online today for best rates and if we can help plan your next vacation, call us at (609) 884-9619.