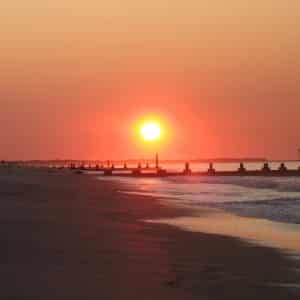 October is one of the most beautiful months of the year to visit Cape May. The summer crowds have dwindled down and our seaside town takes on a pristine, relaxing feel. If you are thinking about a fall getaway, we've rounded up just five things to take in during your stay. There is always a variety of things to do while in Cape May. Pick your favorite and book your room online today!
Five October Events & Activities!
1) Cape May Wine & Music Fest – One of our favorite local wineries, Hawk Haven Vineyard & Winery will be hosting the wine and music festival October 12-13. It's going to be an amazing event! Enjoy delicious street food vendors, a craft beer garden, live music and of course, tastings from New Jersey's finest wineries.
2) Enjoy a night at the theater – The East Lynne Theater will be presenting Sherlock Holmes Adventure of the Blue Carbuncle on October 25-26 and November 1-22. Also, check out Poe by Candlelight happening just one night on October 19. Then, the Cape May Stage will be performing The Taming, which will run from September 25th – November 1st.
3) Take a trip to the zoo – The Cape May County Zoo & Park is a great place to visit during the fall. There are several seasonal events going on. A popular one is the Boo at the Zoo, taking place October 26th and it's free!
4) Halloween Happenings – Did you know that Cape May is one of the most haunted places in the country? Try a Ghosts of Cape May Trolley Tour, a Historic Haunts House Tour, or perhaps a Murder Mystery Dinner! Visit the event website for a whole list of Halloween activities.
5) Victorian Weekend – Come and help us celebrate the unique heritage of America's first seaside resort. This annual event brings entertaining activities from history to murder mysteries, historic house tours, food and wine events and much more. The Victorian Weekend will be taking place October 10-14.