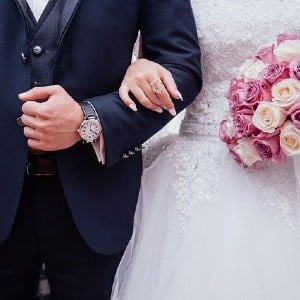 Did you know that Cape May is one of the top wedding destinations in the country? If you have been to the area, you know that Cape May is definitely a bustling vacation spot in the summer. However, many are finding that it is also a gem to visit in the off season as well. You still get all of the beauty of the area with a bit more peace and privacy. Winter can be a magical time of year to get married. If you are dreaming of an intimate Cape May winter wedding, rehearsal dinner, anniversary party or special occasion, our hotel offers it all.
Carroll Villa Hotel – The Perfect Backdrop for Your Winter Wedding
Cape May is a charming seaside town that is just as alive in winter with all of its festive holiday decorations. Our historic hotel and restaurant are located in the heart of downtown. It's an absolutely magical venue for a special event. Planning a memorable event can be stressful. Especially when you don't know where to start and it when it breaks the bank.
Here at our hotel, we take the stress out completely by offering the services of our planner extraordinaire, Marta Kulkowitz. She will meet with you to help plan every detail and help you create an event tailored to yours and the needs of your guests. Whether for a winter wedding, family reunion, or anniversary celebration, our hotel and restaurant provide the perfect backdrop for any occasion.
Our Mad Batter Restaurant can accommodate up to 75 guests for a wedding reception or rehearsal dinner. The Garden Terrace Room has the perfect ambiance for an elegant wedding or private party. Our chefs have received national acclaim and will meet with you to plan a custom menu for your special occasion. Because our hotel and restaurant are attached, you and your guests will not have to travel back and forth between venues.
We have an event inquiry form on our website where you can send any questions our way. Planning ahead for a year down the road? Interested in a quick elopement or surprise party for a loved one? We would love to help you plan a most memorable stay. Make memories that will last forever. Cape May is a place that always grabs the hearts of our guests and visitors. Contact us today for your next event or book a holiday getaway today. Christmas is a beautiful time to be here and we still have rooms open for a mid-week or weekend stay.