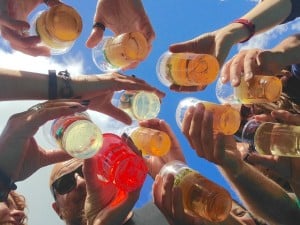 What is Cape May most famous for? That is a question with more than one answer! Also known as "The Jersey Cape," Cape May is a destination famous for its beaches, boardwalks and Victorian charm. Our resort town has an exciting blend of culture and nature to explore. Surf, sand, historic sites, and an abundance of activities are available for guests to have an incredible getaway. We are all about celebrating "local" and what makes our resort town so special. Events such as the Harvest Brew Fest do just that and we invite you to come check it out!
September is a great time for a vacation to the Cape May and the Carroll Villa Hotel. The summer crowds have dwindled, the weather a touch cooler and sidewalk sales abound! It's also when the Harvest Brew Fest will take place. Come out September 18, 2021 for this popular annual festival happening at the Emlen Physick Estate. This festival truly celebrates all things local! Enjoy craft beers, many different kinds of delicious food vendors, local musical talent, kids' activities and more. The crafts and collectibles show will also be taking place where you can find a wide range of original, handmade pieces of art or collectibles.
This a free festival so there is no admission – the only cost is the varying prices for food, beer and craft vendors. Festival hours are 10am-6pm. It's family friendly so bring the whole crew with you! If you will be staying for the weekend, spend the rest of your time exploring the area. Cape May is a bucket list destination for many and we can share our favorite things to do so don't be afraid to ask for our inside tips!
Other Points of Interest Around Cape May
Whether your trip holds a special event such as the Harvest Brew Fest, a day at the beach or rest and relaxation at our hotel, it will be a memorable one! Book your next stay in Cape May online today and contact us anytime with questions or for assistance in planning your next getaway.