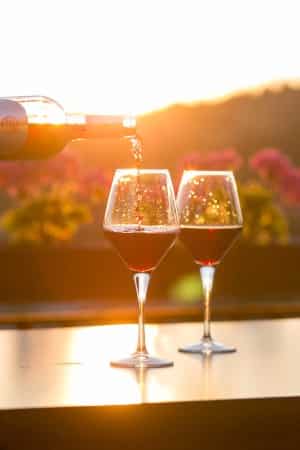 As you drive along the beautiful city of Cape May this fall, you might see that we have some strong agricultural roots! There is a long tradition of farming here that has evolved over time. Today, the farming efforts have come to include a wonderful variety of local wineries. We've got an awesome food scene and stunning beaches with a backdrop of Victorian architecture. In addition, many guests are also now coming for beer and wine tasting! So today, we are playing tour guide sharing about the great wineries in Cape May.
Jessie Creek – This a boutique winery that specializes in production of estate grown white and red varietals.  With a mission to provide the best wines, they focus on small batches. Interestingly, from cultivation to harvest to labeling the bottles, is all done by hand. They are open Sunday to Friday from 11am-7pm and Saturdays from 11am-8pm. Also, you can also make an appointment for an interactive guided wine tasting. Learn the tasting techniques and language of wine used by sommeliers and wine enthusiasts.
Hawk Haven Vineyard & Winery – Operated by a talented husband and wife team, Hawk Haven was birthed from a farmland that has been in the family since the 1940s. In 2008 the vineyard opened to the public and today has over sixteen acres under vine with as many different varietals. Their wine bar with tasting flights is open daily. In addition, you'll find all kinds of fun events including live music and happy hour.
Old Roots, Tapas and Fire Pit Fridays
Cape May Winery & Vineyard – This winery was started by the Hayes family in 1989 and has the oldest roots in the county. They released their first bottle of Cabernet Sauvignon in 1996 and produce some of the state's finest wines. Enjoy the retail store, daily wine offerings and delicious tapas. Quality wines, friendly service, and a relaxing atmosphere make it a great place to spend an afternoon.
Willow Creek Winery & Farm – This 50-acre vineyard is located in New Jersey's outer coastal plain and is surrounded by the ocean and bay. It's a romantic winery with vineyard vistas and gardens for strolling. They are open daily at noon, year-round, for table side wine tastings, tours and private wine-paired events. Their "Fire pit Fridays" however, are a popular event for guests. Gather around the fire pit for wine, food and live music.
Turdo Vineyards & Winery – Another local vineyard making premium wines, Turdo Winery is family owned and the only vineyard and winery in the state of NJ to be run 100% on solar energy. They've received honors and medals from various prestigious international wine competitions. Enjoy classic wine tastings Thursday through Saturday from 12-5pm and Sunday from 12-4pm.
Natali Vineyards – Offering wine for every taste, Natali has over 28 wines, red white, dry, sweet & fruit. Similar to Jessie Creek, they harvest and bottle all by hand, the "old world" way. They truly view winemaking as an artisanal craft. By focusing on small batches they have the time to take much pride in each and every one. They've got a fantastic tapas menu and are open Sunday through Friday from 12:00pm to 6:00pm & until 7:00pm on Saturdays.
Cape May, NJ is the place to be for fall fun! Visit the local wineries, take a leaf peeping hike, enjoy a trolley tour or come for the Sherlock Holmes Weekend. After all the adventure, relax and renew at our elegant seaside hotel. Book your next fall getaway today – we look forward to hosting you!