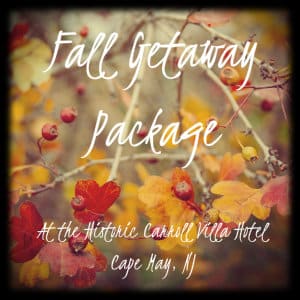 We know the holiday season can be whirlwind. Yes, it is full of all kinds of good things – holiday parties, functions with family and friends, traveling, eating, baking, gift giving, and more! It can be tiring with all of the hustle and bustle. Or, perhaps you are in a season of life where some R&R and time to escape and unwind is more desired. If you are looking for a place to call home this fall or winter we would love to have you stay with us. Whether for a quick one-night escape, a mid-week retreat or full weekend vacation, our accommodations are the perfect choice for a romantic stay in Cape May, NJ. Even better, we have an exclusive Fall Getaway Package that we are offering for a limited time.
We enjoy hosting people from all over the country all year long. We are pleased to be able to provide this special Fall Getaway Package to new and returning guests. It will be running until December 21st, 2017 and is valid for a two-night midweek stay. It includes a welcome gift bottle of wine, trolley tickets for two and a $30 breakfast voucher for the Mad Batter Restaurant for each morning of your stay. The cost is $245 for a room with a queen size bed and $265 for a room with a king bed. Take advantage of this package and enjoy some of the fun events in the area.
Holiday happenings going on in Cape May:
The West Cape May Christmas Parade takes place December 2nd.
The Annual Dickens Christmas Extravaganza is happening the first weekend of December.
Visit an Old-Fashioned Christmas exhibit at the Physick Estate, November 17th – December 1st.
Take a self-guided tour of five of Cape May's finest private homes, beautifully decorated for the season.
Stroll around the Washington Street Mall during Hospitality Night, December 7-8, when merchants open their doors and offer visitors refreshments while they shop.
Book your room online today so you don't miss out on enjoying a memorable getaway. Feel free to contact us anytime with questions or if you need help planning your vacation. We look forward to seeing you this holiday season!