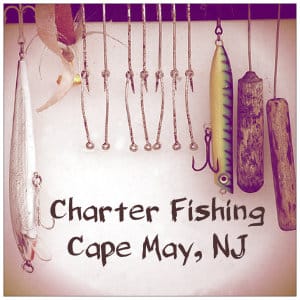 One of the reasons we love writing these blogs is the chance we get to share about the area we call home. Cape May, NJ is one of those places that offers unforgettable experiences as guests can enjoy a wide variety of things to do. The beauty of the area matched with the abundance of activities makes our home a true vacation destination. A fishing excursion is a fantastic way to spend the day for those who love getting out on the water. Whether you are an enthusiast with a vast knowledge, a beginner, or just a spectator, a charter fishing trip is a great activity.
Charter Fishing Options:
Cape Sea Excursions – These folks sail daily from Cape May. Join one of their experienced fishermen on one of their Starlight Fleet boats. Whether you are a first-time angler or a seasoned fisherman. They offer state-of-the-art fish finding and safety equipment. Fees include rod & reel, bait, instructions, and parking. The 3-hour back bay trip cost ranges from $15-$35 per person.
Porgy IV – You can fish in comfort on this beautiful 77′ fishing vessel. They offer 8-hour Deep Sea and Delaware Bay fishing excursions. They are also equipped with the latest in navigation and fish finding equipment and offer rods and reels for rent. Soft drinks, water & snacks are available on the vessel and parking is free at the marina. Contact them directly for pricing information.
Miss Chris Boats – Whether for a birthday, anniversary, or guys/girls weekend, you'll enjoy a private charter fishing trip with Miss Chris Boats. They offer Bay Fishing, Inshore Fishing and Offshore Fishing Options. Your trip aboard the Miss Chris and the Lady Chris Boats includes fishing license, parking, bait and fishing instructions. Rental Rods are available and pricing information can be found on their website.
Whether you are looking for fun and adventure or some peace and quiet, you'll find both available here in Cape May. It's the perfect place for those needing to explore and those needing to recharge after a busy season. Book online today and contact us anytime for further information.