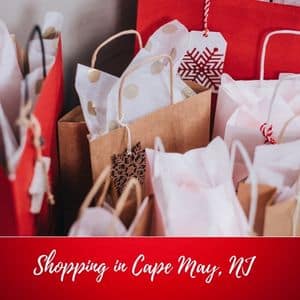 When it comes to booking a stay in a "resort" town, one thing that you can expect is access to everything you need for a perfect vacation. Cape May, NJ is known for its pristine, windswept shores, charming historic district, great food and friendly people. But in addition to these things, you'll also find fantastic shopping in Cape May. From apparel and art to jewelry and fine goods, our Victorian town is chock full of unique shops. With the holiday season upon us, we've got the low down on all you savvy shoppers need to know for your next stay at the Carroll Villa Hotel.
A majority of shops are concentrated around Washington Street Mall. We can assure you it is not what you would expect when thinking of a typical mall. This area is an outdoor walking mall that spans three whole blocks, found between Perry Street and Ocean Street. Situated in the heart of Cape May, it houses some of the best shops and restaurants our area has to offer. Along the quaint stretch, you'll find beautifully restored Victorian storefronts, brick pathways, as well as whimsical fountains and benches. You will find clothing stores, home goods shops, bookstores and much more.
Other places to find great shopping include:
Beachfront near Convention Hall and near Jackson Street
One of the things that makes shopping here so unique is the fact that all of the shops in Cape May are independently owned and operated. This also means they can open and close at their discretion. From mid-June to Labor Day, most stores are open 10am-10pm daily. After Labor Day to late October, most are open from 10am-5pm with longer hours on Friday and Saturday. In addition, some stores are seasonal and close for the winter or are open only on weekends.
Our seaside resort hotel is conveniently located just minutes away from everything Cape May has to offer. Whether you're on the hunt for local treasures, a special gift for a friend or a one of a kind piece of art, our hotel is the perfect home away from home for you. Book direct online today and contact us anytime for further information.