Christmas is truly a magical time to be in Cape May! Are you looking for a respite from the usual hustle and bustle of the season? Christmas in Cape May is the perfect getaway to find rest and relaxation and take in some special holiday events. Take a look below at some of the highlights happening around town.
Ride Around Town in Holiday Style
Take a fun (and warm) trip through the historic district of Cape May to take in the festive sights of Victorian-style homes and various inns on a Holiday Lights Trolley Ride through town. Friendly, local guides will share all about the Christmas traditions of the area and might even lead you in a sing-a-long! These trolley rides last approximately 30 minutes and are available every 15 minutes from 6:15 pm until 8:15 pm beginning November 19 through the end of December.
If you enjoy a more theatrical experience, there are several specialized holiday trolley rides to choose from:
Santas Trolley Rides:   
Mrs. Santa Claus leads the trolley tour with stories and songs from the North Pole. The tour ends with a visit with Santa himself. Available Saturdays and Sundays at 10 am and noon.
 Ghosts of Christmas Past Trolley Tours:    
Guided by a member of the East Lynne Theater troupe, hear stories of ghosts of Christmas past as the trolley rolls by historical buildings. Fridays and Sundays at 8:30 pm and 9:15 pm
 All That Glitters Trolley Tours:   
Travel back to 1899 as a family friend has agreed to finalize the shopping for a glittering New Year's Eve. Fridays, Saturdays, and Sundays at 2:30 pm and 3:30 pm.
And, if you really want to go all out Hallmark/old-fashioned, take a Holiday Lights Carriage Tour! Tour around the decorated Victorian homes in a horse-drawn carriage throughout  December. Blankets provided!
Stroll Back in Time with Holiday House Tours
Who doesn't enjoy the vicarious pleasure of touring homes, especially when they are lavishly decorated for the holidays?
49th Annual Christmas Candlelight Tour
Enjoy a self-guided walking tour that takes you by the most spectacular inns, churches, hotels, and homes beautifully decorated for the holiday season. Along the way, be greeted by strolling carolers and musicians. Various hospitality centers will be offering warm beverages & home-baked goodies. Also, your tickets include admission to the Emlen Physick Estate and to "An Old-fashioned Christmas" exhibit in the Carroll Gallery. This year, the Candlelight House Tours dates are December 3, 10, and 17 from 5:30 pm to 8:30 pm. Because these tours are popular, you will want to reserve your spot early!
Physick Family ChristmasHouse Tour
Take a guided tour through the 1879 Physick House, fully decorated for the holidays, Victorian style. The tour includes visiting the popular "Olde Fashioned Christmas Exhibit" in the Carroll Gallery, whose highlights include a giant Christmas tree, model trains, and an elaborate Dept. 56 Dickens Village collection. Your guide will answer all of your questions as they portray a member of the Physick family in the early 1900s. Tours are on weekends between Thanksgiving and Christmas, with three daily tours available at 12:30 pm, 1:45 pm, and 3:00 pm.
Visit the ground floor of the Physick House, fully decorated for the holidays in the evening. Learn how the Physick family would have entertained during the holidays during the Victorian era. Tour includes entrance to the "Olde Fashioned Christmas Exhibit" in the Carroll Gallery. Monday and Wednesday nights after Thanksgiving at 7:00 pm.
On this daytime self-guided tour, see several of Cape May's elaborate Bed and Breakfasts decorated for the holidays. Available November 28 – December 8 at 1 pm; trolley ride included.
Take an evening self-guided tour to see several festively decorated Bed and Breakfasts and private homes. A visit to the Physick House's "Olde Fashioned Christmas Exhibit" in the Carroll Gallery is included. Most Fridays after Thanksgiving at 5:30 pm, check the schedule to confirm.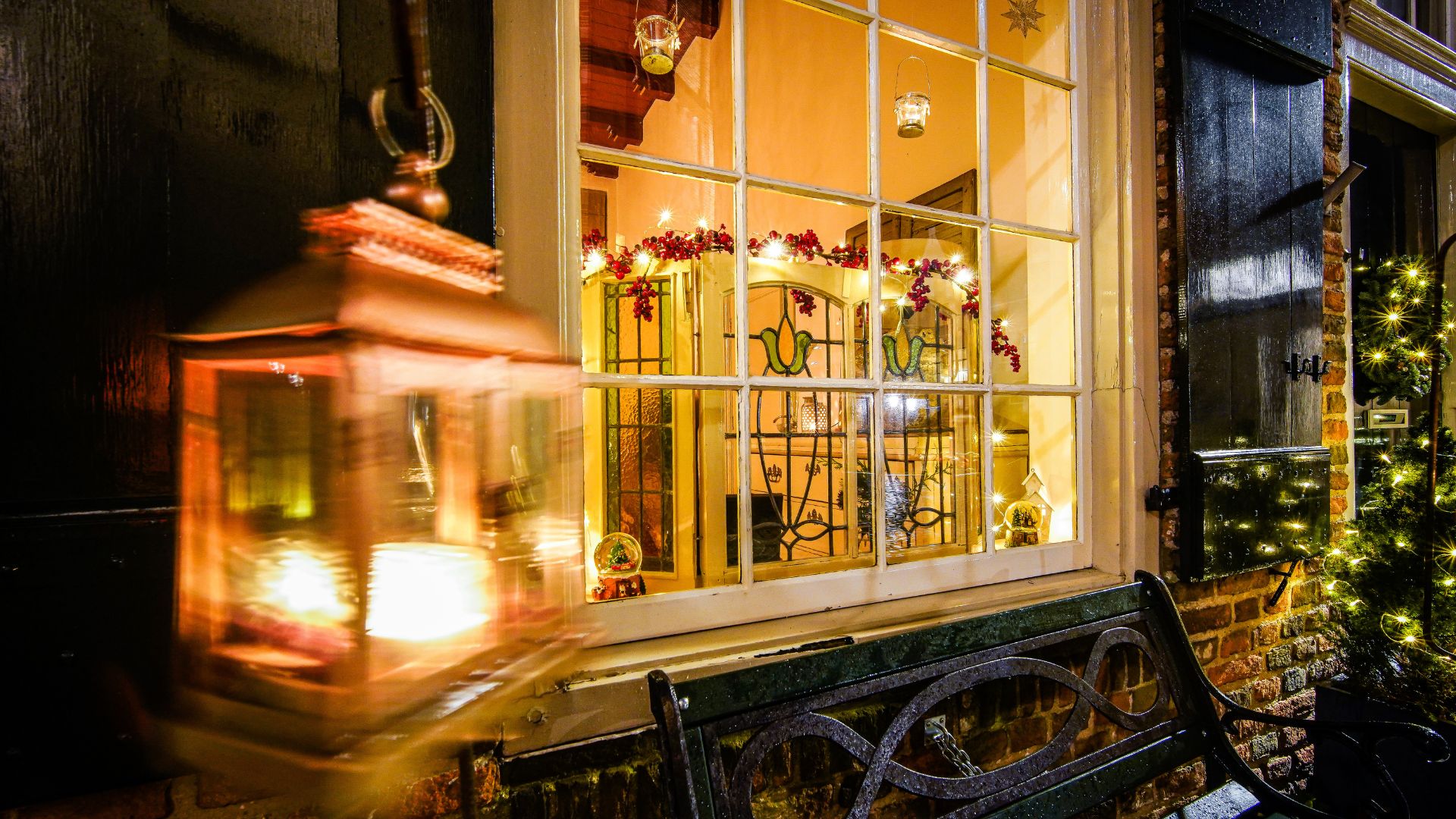 Downtown Cape May Festivities
Downtown Cape May has all of the small-town holiday festivities that you would expect, including a tree lighting on December 2 at 7:00 pm at the Rotary Park, followed by a parade on December 3, starting at 5 pm on Broadway. Plan your holiday shopping for the Washington Street Mall on December 9, as merchants help celebrate the season with sales, discounts, and other specials.
Visit Congress Hall as it is transformed into a Winter Wonderland with shopping, crafts, activities, and winter igloos.
Onstage for the Holidays
The Cape May Stage presents a one-person show of the iconic "One Christmas Carol." The show runs Wednesdays through Sundays from November 16 – December 30.
The East Lynne Theater Company presents "Christmas Presents from the Past," an adaptation of classic American Christmas stories. This one-woman show runs the two weekends after Thanksgiving.
An original play, "The Forgotten Caroler," is being performed at the Emlen Physick House in multiple rooms Thursdays and Fridays in December at 6:30 pm and 7:30 pm.
With so much to do, get out your calendar and plan the perfect getaway for Christmas in Cape May, NJ.  Come and get caught up in the magic of the holidays, Victorian style. It's a wonderful reprieve from this century's constant demands. Make it an annual tradition!
Updated for 2022