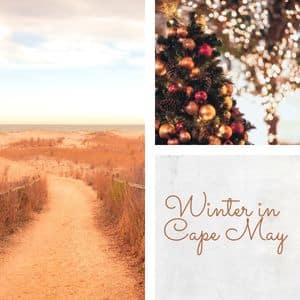 While Cape May NJ may top the list as one of the hottest summer destinations, have you experienced it during the off season? While some local beach towns can become literal ghost towns during the winter, that is not the case for Cape May. During the shoulder season, the area is cozy, charming and is a fantastic destination for a weekend getaway or romantic midweek stay. The season provides some unique and fun things to do so we've rounded up some winter activities to enjoy during your next stay at our seaside resort hotel.
Cape May Winter Fun
Enjoy the Victorian Architecture – Grab your gloves, scarf and warm coat and explore the delightful Victorian design that can be seen all over town. So much of the city's charm comes from the historic and stately homes that line the streets. Different paint colors, gingerbread trim, picket fences…each one is unique!
Stroll a quiet, pristine beach – The sandy shores won't be hopping and the waters too cold for swimming. But, a walk on the beach is beautiful during the winter. Listen to the waves and find some peace and quiet that can't be found anywhere else.
A Cape May Christmas – What better place to get into the spirit of Christmas than Victorian Cape May? Our seaside town is transformed into a picture-book Dickens village for the holiday season. Twinkling gaslights and garlands of greens adorn the downtown area. Enjoy a festive atmosphere as the whole town embraces the joys of the season. Check out the local tours and seasonal events.
Visit a museum – the area of Cape May is rich in history and the city offers several museums to visit. The winter season is a great time to visit the Naval Aviation Museum or the Emlen Physick Estate.
Wine tasting and tapas – Pay a visit to the Cape May Winery and dine on some delicious food in their Tapas Kitchen or book an educational wine tasting. Other local wineries include Willow Creek Winery & Farm, Hawk Haven Vineyard & Winery, Natali Vineyards, and Turdo Vineyards & Winery.
Make Memories with Friends and Family
Are you ready for a cozy winter getaway? Make this Christmas and holiday season one to remember and plan a getaway to Cape May. There are a lot of great winter activities, restaurants to try, and outdoor adventures to be had. And all without the summer crowds! Bring your family, loved ones or favorite group of friends and make some fantastic memories. Book your winter getaway today and contact us anytime for further information.