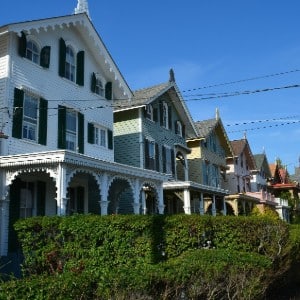 While Cape May is amazing in the summer, it's also been called magical in the fall! The red, orange, and yellow hues are bursting around town. Unlike other beach towns, Cape May has a lot going on through the Christmas season.
Many businesses are open, the streets are lot quieter, and there is still plenty of great weather for walks on the beach. One of the attractions that many of our guests enjoy are the trolley tours offered by the Mid-Atlantic Center for the Arts & Humanities here in Cape May.
A guided tour on one of these red and green trolleys is a great way to spend an afternoon. They are a comfortable way to see the beauty of Cape May and all that this seaside resort town has to offer. The knowledgeable guides will share all about the Victorian heritage and maritime history of the area. In November there are numerous trolley tours to try depending on your interests. See a list below for some tours you can take part in during your next stay with us!
Trolley Tours in Cape May
Welcome to Cape May Trolley Tour – Perfect for first-time visitors who want to see all of the points of interest in and around Cape May
Combination Trolley/Physick Estate Tour – Enjoy a 45-minute Historic District Trolley Tour combined with a 45-minute guided tour of the 1879 Physick Estate Victorian house museum.
Ghosts of Cape May Trolley Tour – A 30-minute ride through the haunted streets of Cape May. The guide will recount the paranormal findings of ghost writer Craig McManus.
Mansions by the Sea Trolley Tour – A 40-minute narrated trolley tour along Beach Avenue. Your guide will tell the history of the city at the turn of the 20th century.
Underground Railroad Trolley Tour – This trolley tour will take you to the places where escaped slaves connected with the Underground Railroad sought refuge during their journey to freedom.
We offer accommodations that you are just not going to find at a run of the mill hotel. Each of our 19 guest rooms are uniquely decorated and modernly appointed with a touch of luxury. There is still plenty of time to squeeze in a memorable fall getaway. Treat yourself and your loved one to a stress-free, relaxing time away in Cape May. Book direct online today or contact us anytime for further information.