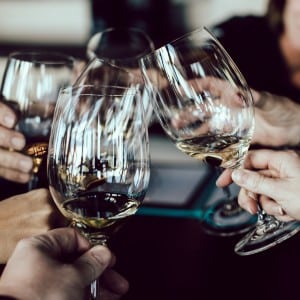 Happy New Year friends! Thinking about all the amazing memories that were made in 2019, our hearts are full! We can't wait for what 2020 has in store and we would love to host you for a memorable getaway! One reason we love running a resort hotel in Cape May is playing a part in helping our guests enjoy all that this area has to offer. Cape May is a perfect vacation destination for all ages and lifestyles. You can get outdoors and stay active or choose relax and unwind while enjoying the luxurious amenities our hotel offers. You can also attend unique local events such as the Cellar Tasting at Hawk Haven Vineyard & Winery.
Exclusive Vintage Wine Tasting
Hawk Haven Winery is a favorite of ours and just a few minutes away from our hotel. It is located on 100+ acres in the Rio Grande area of Cape May County. What started as a family dairy and produce farm in 1940, grew to be an award-winning vineyard. The first plants went into the ground in 1997. Their exclusive Cellar Tasting will be taking place January 18th and 19th, 2020. Our hotel will be closed from January 1st to the 17th for renovations so this will be a great reason to come for a stay upon our reopening! The Cellar Tasting costs $20 per person and offers guests the opportunity to taste a variety of limited production, reserve, and older vintage wines, each one carefully aged in their wine maker's private cellar. These exclusive vintage wines will be available for purchase this weekend only.
Kick off the new year in style with an amazing stay in Cape May. Book online through our website for the lowest rates and contact us anytime for further information. Upon booking you will also receive a $30 breakfast voucher with each night's stay, the best happy hour in town from 3-6, live music nightly, and 30% off dinner entrees at our award-winning Mad Batter Restaurant.