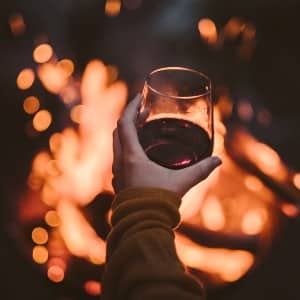 How would you finish the following sentence? "Happiness is…" We can only imagine the answers we would get! Perhaps you would say a great meal, time with family, or tickets to your favorite concert. What about "happiness is not having to set your alarm for the next day?" Are you looking for the perfect place to get away this fall? Enjoy a happy and relaxing weekend at our resort hotel in Cape May, NJ. Not only can you leave your alarm clock at home, you can also attend an event such as Fire Pit Fridays at the Willow Creek Farm & Winery.
Wine, Fire and Starry Night Skies
Spending an entire weekend taking in the sights and sounds of Cape May is a getaway you won't forget! If you have yet to visit here, Cape May is a seaside resort at the tip of southern New Jersey's Cape May Peninsula. We are known for our incredible historic district, Victorian architecture, and stunning beaches to name just a few! We are also home to the beautiful Willow Creek Farm & Winery, which is less than 10 minutes from our hotel. Willow Creek is the newest and largest Napa-style winery in Cape May. It is a beautiful winery set in stunning vineyards and gardens. Features include a 9,500 square-foot villa for wine tasting, tours, tastings and events such as Fire Pit Fridays.
Happening each Friday evening from 5:30pm-9pm, enjoy live music while you sample their locally grown, produced, and bottled wines. Their grill menu has delicious farm-fresh choices to pair with your wine. After your tasting, relax by the fire under a starry sky. Reservations are required for guaranteed table service
Bring your loved one or a group of your favorite friends and experience an amazing weekend in Cape May. The fall is a beautiful time of year to be here. Have to stay home to work on the weekends? Come for a mid-week stay instead! You can book direct online for guaranteed best rates or contact us anytime for further information.