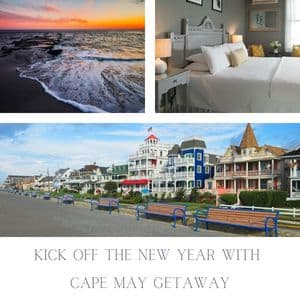 There are countless ways to kick off a new year. Many create a fresh to-do list, pick a new hobby or draft up their resolutions for the year. 2021 brought all sorts of highs and lows and may have been a difficult one for many of you. We are fortunate to be surrounded by beauty here in Cape May, NJ and so much to see and do. Despite tough seasons, we continue to be blessed by being able to host wonderful guests from all over the country. If you are looking for the perfect 2022 kick off vacation, Cape May is the best choice!
Hopefully your calendar is starting out bare, with plenty of open time to plan a winter getaway! There are several reasons the Carroll Villa Hotel consistently remains as the top choice for accommodations in Cape May:
Our historic building provides elegant and romantic rooms with luxury amenities
Our hotel is home to the Mad Batter Restaurant – routinely awarded one of the best in town
We are just a half a block from the beach
We provide a relaxed and friendly atmosphere with exceptional hospitality and charm
Lots to see and do!
During your stay, it is your choice whether you want to fill your time with a bustle of activities and sightseeing or simply relaxation and rejuvenation. Our helpful staff can help you plan an itinerary to suit your needs and point you to our favorite spots and things to do.
If you'd like to provide your loved with an in-room surprise, choose one of our special enhancements. A single rose, bottle of champagne, vase of fresh cut flowers or fresh dipped chocolate covered strawberries is the perfect way to show some extra love.
Are you ready to plan the perfect 2022 kick off vacation? When you book directly with us you'll have our guaranteed lowest rates and will also receive a $30 breakfast voucher with each night's stay. Our Mad Batter Restaurant offers the best happy hour in town from 3-6, live music nightly, and guests receive 30% off dinner entrees. Book your next getaway today! Please note that we will be closing January 17th and opening again February 10th.