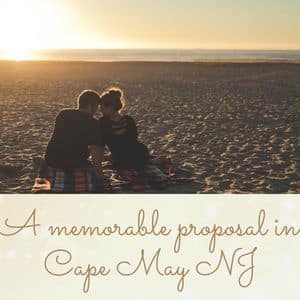 An abundance of nature, miles of beaches, and storybook streets lined with Victorian homes make Cape May, NJ an ideal destination for couples in search of a romantic getaway. Winter has always been a romantic season. Combine the coziness of the season with the charm of the holidays and you have the perfect atmosphere to make a memory that will last the rest of your life. If you are looking to plan the perfect proposal in Cape May we've got a few ideas to help you get started. And if this is a surprise, your secret is safe with us!
You've already made the biggest, most important decision—you've found your soul mate that you want to spend the rest of your life with. Now it's time for a proposal! Cape May is a magical place to bring your sweetheart. Below are a few winter proposal ideas that will make this moment truly unforgettable:
Unforgettable proposal in Cape May
Take a romantic walk along Sunset Beach, a popular beach in the summer and a quiet, romantic spot in the winter.  The off season means you can rest assured you'll find a private spot to pop the question. Grab a stick along the way and write your proposal in the sand!
Take a trip up the iconic Cape May Lighthouse and get down on one knee with a beautiful view all around. The lighthouse is located in Cape May Point State Park less than 10 minutes from our hotel. Built in 1859, this historic lighthouse has 199 steps to get to the top. We can assure you the panoramic view at the top is worth the climb. The watch room/gallery of the lighthouse is limited to 15 people and can be rented for a private proposal as well.
How about a romantic carriage ride through the city? This is undeniably a magical and memorable experience. The Cape May Carriage Company offers private carriage tours of historic Cape May as well as seasonal holiday lights tours. The carriage drivers are friendly guides that will share stories of the area's rich history as you clip-clop down the roads. Bring a blanket and hot chocolate and don't forget the ring!
Surprise your sweetheart with a proposal by the glow of a cozy fire. Take a trip over to the Cape May Winery & Vineyard and snuggle up together by their romantic fireplace. Enjoy a wine tasting together afterwards or some delicious tapas.
Add champagne, roses and chocolate!
Add romantic touches to your stay. We offer a fantastic Romance Package that includes a chilled bottle of champagne in your room on arrival, 6 decadent chocolate covered strawberries, and a single long stem rose in a Carroll Villa memory vase. Create the perfect atmosphere for an in-room proposal.
If you need help planning a perfect proposal in Cape May, contact us! We can direct you to our favorite local spots and assist in making your proposal extra special. Book your stay online with us today! When you book direct, receive a $30 breakfast voucher with each night's stay, the best happy hour in town from 3-6, live music nightly, and 30% off dinner entrees at our award-winning Mad Batter Restaurant.