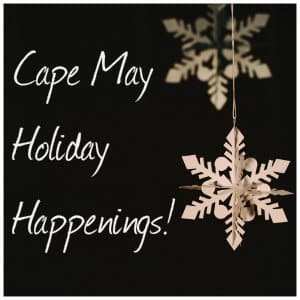 The Christmas season is here! Snow is flying on certain parts of the country, trees are up and decorated, stores are full of hustle and bustle, and family and friends anticipate time together. Do you happen to know what song takes the #1 spot on Billboard's Top 10 Christmas Songs of All Time? The answer might surprise you! It's Mariah Carey's, "All I Want For Christmas is You." Taking second place is Brenda Lee's "Rockin' Around the Christmas Tree," which you may not know was recording when she was just 13 years old! What you also may not know is that Cape May is a fantastic place to visit during the holiday season. We've got lots going on if you are looking for activities and plenty of places, including our hotel, to escape and unwind if you are looking for a total retreat.
First, for those who enjoy a nice dinner and show, we want you to know about the wonder dinner theater at Elaine's. Not far from our hotel, Elaine's is a quaint and charming place that offers a nice dinner theater for those looking for a local place to enjoy an evening out. While you won't experience a Broadway-level production, this dinner theater puts on a myriad of different shows, many being very funny and lighthearted. The actors are very professional and with great comic timing are superb at improve. They often engage with the audience so go prepared to get pulled into the show! Your ticket includes a full course dinner and the show—two courses are served at the start and then dessert once the show starts so you have something to nibble on as you watch. Reservations are highly recommended. Right now they are presenting, "Scrooge: The Musical," a great night out during the holiday season.
Next, we don't want you to miss out on attending New Year's Eve at our very own Mad Batter restaurant. Some people look high and low for the perfect way to spend this monumental evening but we encourage you to enjoy a fun and relaxing evening at our special event. Our four-course dinner, which includes an appetizer, soup or salad, entrée, and dessert, will be $75 per person. Our talented chefs have pulled out all of the stops to offer a spectacular menu for this special evening. Some of your choices will include Shrimp and Mussels in White Wine-Tomato Broth, Tuna Tartare with Orange-Ginger, Lobster Bisque with Crème Fraiche and Sherry, Pan Seared Scallops, Grilled Filet Mignon Stack, White Chocolate Macadamia Mousse, and Chocolate Pear Puddle. You are in for a treat! Then to add to the amazing food, Jim Doran will be providing live music from 7pm to midnight.
Come on out to Cape May—whether for a midweek stay, a weekend getaway or week long vacation! We can help you plan a memorable stay that will make this Christmas season one to remember. Book online today or contact us for further information.