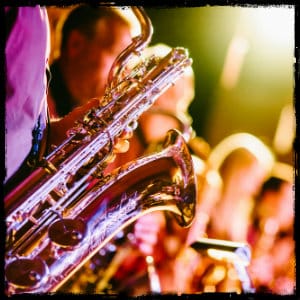 Hello friends! We are sure some of you that land here may not be familiar with our neck of the woods so let us share just a bit about Cape May to start off. We are at the southern tip of the Cape May Peninsula, where the Atlantic Ocean meets the Delaware Bay. Our town is incredibly rich in history, our streets are lined with breathtaking, colorful Victorian-style homes, we've got award-winning beaches, and an endless amount of things to do and places to see. We are also home to the very popular Exit Zero Jazz Festival so keep reading to learn more!
The Exit Zero Jazz Festival made its first appearance in 2012 and quickly put a stake in the ground as being one of the top music events in the area. If you are a music aficionado, this is one festival you do not want to miss. World-class musicians come from all over to call Cape May home for a few days. This year the festival will be taking place April 21-23, 2017. The area turns into a true jazz village and festival goers will have the opportunity to take in first rate performances.
Exit Zero brings in both well known, critically acclaimed artists but also gives the stage to up and coming artists and local musicians native to Cape May. The lineup this year at this world-class festival includes Stooges Brass Band, Daisy Castro, Philly Gumbo, Kenny Barron, Charnett Moffett, Sonny Knight & The Lakers, and many more! This is a multi-venue festival with performances in the Schmidtchen Theater, Convention Hall and clubs all over Cape May. Click here for more information on the artists, venues, and tickets.
Our own amazing Mad Batter Restaurant will also feature some fantastic live music during this festival weekend. On Friday night we will feature Don Shough and on Saturday night the Geno White Trio. We have nightly live music and you can find all of the details about our music schedule here. If you are thinking of coming over for this festival, we would love to be your hosts. Our seaside hotel is the perfect home away from home. We offer privacy and luxurious amenities and we are close to the action if you are looking for adventure. Book online today or contact us anytime for more information.