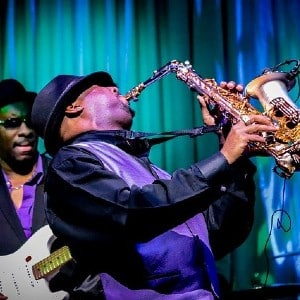 Welcome back to our blog! We've got many friends and guests who check in regularly to see what's happening at our hotel or in Cape May. If you are new or just stumbled upon us by accident, let us quickly tell you who we are! Our historic hotel was built in 1882 and we are located just a half of a block from the beach. Cape May, NJ is America's oldest seaside resort at the tip of southern New Jersey's Cape May Peninsula. Known for its shops, restaurants and many grand Victorian homes, Cape May is a stunning place to visit. We are also known for fantastic events and activities that happen throughout the year such as the Exit Zero Jazz Festival. The fall edition is coming up so check out the details below!
This year, the fall edition of the Exit Zero Jazz Festival will take place November 8-11, 2018. This festival is a multi-venue event. There will be two headline concerts in Schmidtchen Theater and then featured concerts in Cape May Convention Hall. There is also a Hops Pass Club Series that showcases a wide array of music in the clubs and restaurants of Cape May. You can enjoy all sorts of genres of music throughout the weekend, all within a short distance from our hotel.
This fall the headline artists will be NEA Jazz Master Dianne Reeves and Marcus Miller. Festival-goers will have over 40 sets of world class music at their disposal. Grammy winners, NEA Jazz Masters, Kurt Elling, Stefon Harris & Blackout, Terell Stafford Quintet, Bob James Trio, and Charlie Haden's Liberation Music Orchestra are just a few that will be present. Enjoy the music and then shop and stroll. Or, stop to have lunch or dinner at the Mad Batter and then take the opportunity to relax and unwind at our hotel. We would love to be your hosts during this festival, or for a memorable fall getaway. Simply book from our website with our easy online reservation system or contact us anytime for further information.