When things get crazy busy during the holidays, it is so easy to forget the most important people in our lives. This year, instead, let the romance sparks fly during the holiday season in Cape May, NJ, with a special getaway.
Do you need a getaway to love your life a little bit or to spend some time away with a special loved one? We only have one life to live and one chance to make special memories. We highly encourage you to escape to the beautiful area of Cape May for a holiday getaway. Our elegant seaside resort is serene and private and the perfect place to spend a romantic holiday vacation.
Escape to a Simpler Time
The Christmas season in Cape May is just magical. How our seaside town is transformed into a true Dickens village is inspiring! From the stunning holiday decorations on all of the Victorian homes to the spirited events, it's a fantastic time of year to be here.
Several Cape May inns and private homes open up their decorated home for your viewing. The owner at each location also gives a holiday presentation and your tour admission includes a visit to the Carriage House Gallery at the Emlen Physick Estate. You'll also find an "Old Fashioned Christmas" exhibit, complete with hot beverages and holiday treats. It's a self-guided tour, so you can stroll along at your own pace and just enjoy a special evening.
You can go to a holiday show or get your shopping done at the Washington Street Mall. Enjoy each other's company with a leisurely dinner (when was the last time you sat down and ate dinner?)
Enjoy the Season–Indoors and Out
Maybe you are trying to escape the noise and busy clamor of the holidays. Head towards the peaceful sound of the waves lapping along the shore. It's great because no one else is there! Between walks along the beach or on the promenade and visits to local museums, you will see that there are plenty of off-season activities in Cape May.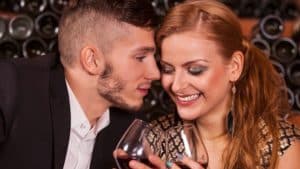 After a walk, or an escapade on roller skates, go visit one or more of our wineries, some serve appetizers and tapas. Or select your adult beverage of choice on the Cape May Booze Trail. The important thing is to have fun, enjoy each other's company, and laugh!
Take Advantage of Our Special Packages
Fall Getaway Package
The holidays are full of traditions and a special getaway to Cape May needs to get on your list! Our inn provides elegant and comfortable accommodations that will make you feel "at home." Our luxurious amenities spoil and pamper our guests and our inn is a place where you can truly escape. Book your vacation online today and feel free to contact us anytime for further information.
Don't forget that our Fall Getaway Package is offered through December 15, 2022! This package includes the following:
A two-night midweek stay, first-night full rate, second night 50% off
Bottle of white wine
$30 breakfast voucher for the Mad Batter each morning of your stay and 30% off of dinner entrees!
Make sure you read all the details online.
Romance Package
To add that special touch of romance to your stay, for an additional $85, our Romance Package can be included in any room. It will give you the following:
A chilled bottle of champagne in your room upon arrival
6 decadent chocolate-covered strawberries
A single long-stemmed rose in a Carrol Villa memory vase
What an amazing way to start your romantic getaway! Romance sparks will surely fly during your getaway this holiday season in Cape May NJ. Please call with any questions you may have about either the Carroll Villa or any of the activities we have described. We would love to create a personalized itinerary to make your holiday escape sublime.
Updated November 2022